DunRite
Licenced & Insured Professional Pest Control
DunRite
Licenced & Insured Professional Pest Control
DunRite Pest Control performs the best pest control Brisbane has to offer.
If you have termites previously treated by others yet still have a problem, you need DunRite!
DunRite Technicians are trained and fully qualified termite technicians. We have a proven track record of 25+ years in the industry of detecting and eradicating termites from properties in the Greater Brisbane area, including Logan, Ipswich, Moreton Bay and the Redlands. Termite inspections are not 'visual'. DunRite does Timber Pest Inspections using moisture meters, sounding stick and a Termatrac microwave tracking system.
Qualified Master Technician in the Goldmorr system. Treatments under the Goldmorr system allow for cold fogging to eliminate all mould spores and bacteria. Cleaning of the mould can be done so as to destroy all mould spores seated in plaster board.
DunRite is registered and fully qualified to use Termidor and Termidor HE, produced by BASF and has delivered unparalleled termite control since it was first introduced onto the Auatralian market in 2002. Our Technicians are kept up to date with all training courses and techniques for this Chemical, as well as testing new products for BASF.
Our commercial client base is varied and specialised to the industry and the nature of the premises. Our General Pest Management Treatments cover a variety of commercial situations, ranging from commercial warehousing to café's to office buildings to accommodation houses to shipping docks to aged care facilities.
DunRite offers a variety of treatments for your needs. Our General pest control treatments cover cockroaches, silverfish, webbing spiders, fleas, bed bugs, rats, mice, ants, mosquitos, wasps, and pretty much everything else other than possums and snakes.
We offer internal and external treatments, using the safest techniques available. The safety of you and your family (including your pets) is a number one priority for DunRite Technicians.
DunRite ensures that you don't have damp spots within your home by making use of moisture meters. With the leading edge technology of Termitrac, DunRite can detect termite movement inside the walls of your house or dwelling without marking the surface.
Dunrite Termite & Pest Control is PROUDLY Queensland owned and operated.  We have been servicing Brisbane, Logan, Ipswich, Moreton Bay and the Redlands for over 25+ years.
DunRite is based on top rate treatments and old fashioned service, using state of the art equipment and the latest technology available. Having been in business for over 25+ years in the Brisbane, Logan and surrounding areas. DunRite technicians are well trained, professional, experienced and are all fully licensed.
The requirement for well trained termite technicians has continually increased as each year goes by. DunRite technicians are carefully selected and trained with a passion to be the best of the best. DunRite is a respected company renowned for quality service and professionalism. DunRite often undertake remedial treatments for clients that have already had treatments completed before, by others that have failed due to various reasons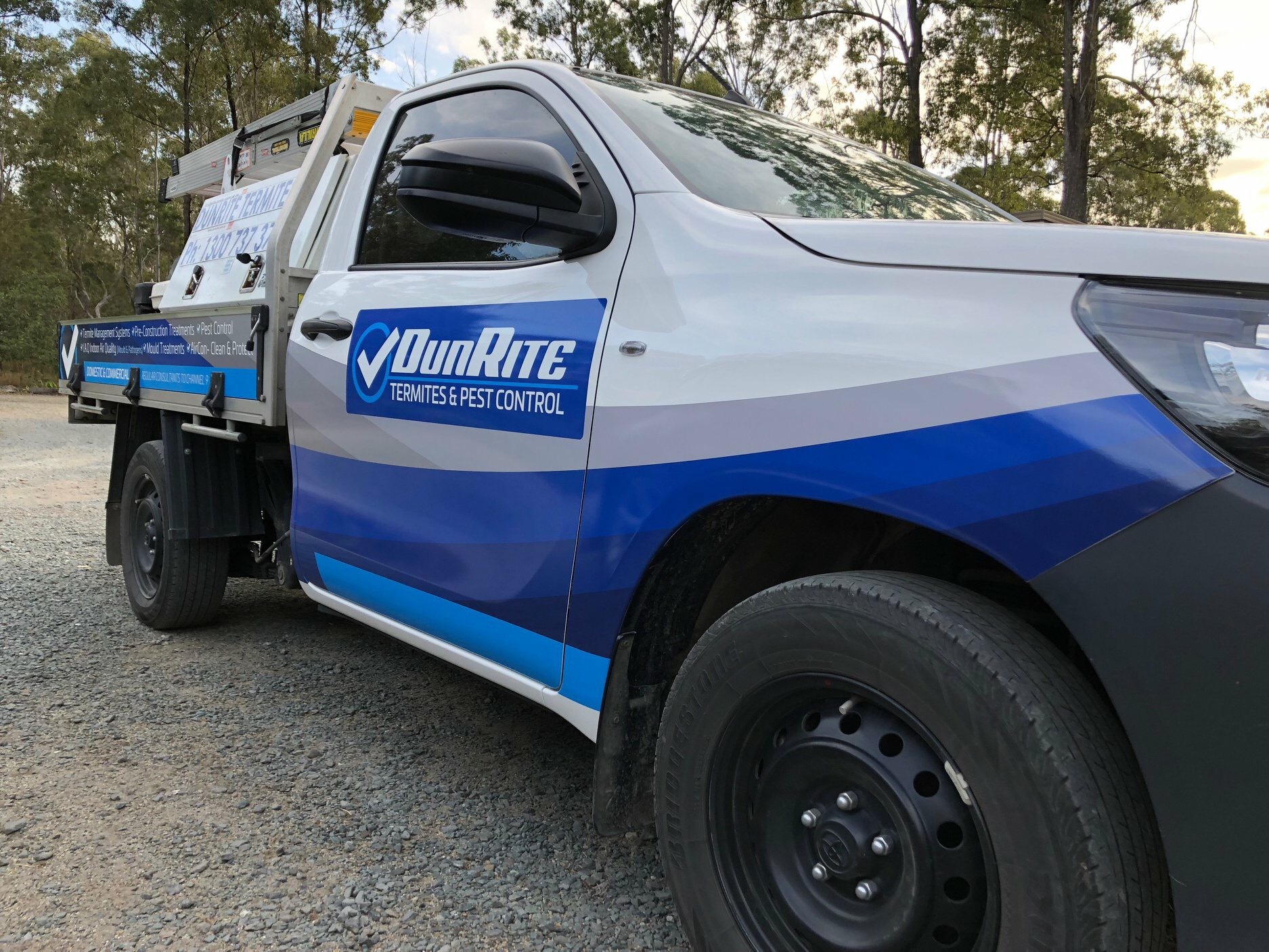 The team at Dunrite did such an excellent job and explained all the technical things in such a way I could understand.
I contacted Dunrite a year ago with a termite problem. I found their quote for a 4 bedroom acceptable after hunting around and so I engaged them. Their work was very professional also prompt.